Korea is a country in Asia that can bring the Hallyu wave to the world, with fresh air all year round, unique and attractive cuisine, … The beautiful country of Korea has always been one of the top destinations for international tourists.
If you have had experience of traveling to other countries, you probably already know that buying a Korean Tourist Sim is absolutely essential for you to be able to access the internet and stay connected with friends and family. Most importantly, don't get lost in a strange place! 😅😅
Sim2go.asia can help you find the best Korea travel sim card when used in Korea at a cheap price, especially suitable for those of you who are planning to travel to Korea on your own or on a tour!
Sim2go.asia will cover all the important details about the different travel sim cards in Korea, as well as all the aspects that you need to keep in mind to choose the right one for you, fit your wallet.
1. Korea's three largest mobile carriers
South Korea has three telecom service providers: SK Telecom, KT (Olleh) and LG U+. SK is the largest provider with more than 27 million subscribers, while KT has more than 16 million. The coverage of both SK Telecom and KT is very good on both 3G and 4G networks. South Korea was one of the first countries to roll out a 5G network, but it was not accessible to prepaid Sim cardholders.
Each network operator will have a preferential price and different packages to suit the needs of tourists.
The average download speed is 40 Mbps, SK Telecom even reaches 65 Mbps. Upload speeds are also lightning fast. You'll enjoy access speeds of at least 10 Mbps and peak speeds of up to 15 Mbps with SK Telecom and LG U+ networks.
2. Some basic things to keep in mind before choosing a 4G South Korea travel sim card
Over the years, the size of Sim cards has decreased. Older models use standard size Sims, newer phones use Micro-Sim and Nano-Sim. Like most Sim cards used in daily life, the Korean travel 4G Sim also integrates 3 sizes such as Nano, Micro and Standard on 1 Sim card, making it easy to install and remove.
3G/4G data/data-only SIM card will be the perfect choice if you don't need a Sim card to include voice calls and text messages while you're in Korea. Sim data cards usually provide unlimited data access, so you can easily use apps like Whatsapp, Zalo, Viber, FB… to make calls and send messages.
Alternatively, the other options Data sim cards + Voice Call cards are only slightly more expensive and allow you to get a phone number so you can make and receive calls during your visit to South Korea.
3. Make sure your phone is unlocked
Korean 4G travel sim cannot be used for network locked phones (jailbroken iPhone phones, non-international versions). This is important to note for those of you who use a network-locked phone. Make sure your phone is unlocked.
4. Choose a short-term or long-term 4G Korean travel sim?
All prepaid Korean tourist sim cards can be used within a certain number of days (5 days, 8 days, 15 days,…). This period starts when you activate your Sim and in most cases it cannot be extended.
Based on your schedule, choose the right Sim card for you. If you need a Sim for longer than the period provided, you may be able to purchase 2 Sim cards to use alternately. However, not all network providers in Korea allow buying multiple Sim cards on the same person.
5. Where to buy Korean 4G travel sim?
You can buy a Korean 4G Sim in Cambodia or buy it directly at the airport, at convenience stores in Korea. Depending on your needs and wallet, you can choose the most suitable product for you.
5.1. Buy 4G Sim Card in Korea
To buy a Korean 4G Sim or a Korean tourist sim, the most common option is to buy it at the airport. After picking up your luggage, you go to the airport service counters and you will see a variety of carriers and freely choose. There are many telecom service counters from different telecom companies (SKT, KT, LG U+) but KT has absolute dominance in terms of Travel Sims for foreigners. The KT service counter at Incheon International Airport, is usually very busy with many customers so you may have to wait more than an hour if needed.
# Price list Sim 4G unlimited data at the airport (KT Olleh)
| | |
| --- | --- |
| Package | Price |
| South Korea 4G Sim Card 1 Day | ₩6,600 |
| South Korea 4G Sim Card 5 Day | ₩27,500 |
| South Korea 4G Sim Card 10 Day | ₩38,500 |
| South Korea 4G Sim Card 20 Day | ₩60,500 |
| South Korea 4G Sim Card 30 Day | ₩71,500 |
# Where to buy Korean 4G Sim at the airport:
Incheon International Airport (T1)
Arrival Hall, between Gate 5 and Gate 6, Roaming Center
24h/ 365 days
Arrival Hall, Gate 9 and Gate 10, Roaming Center
06:00AM ~ 10:00PM
Incheon International Airport (T2)
Arrival Hall, Gate 2 and Gate 3, Roaming Center
24h/ 365 days
Arrival Hall, Gate 4 and Gate 5, Roaming Center
06:00AM ~ 10:00PM
Gimpo International Airport
Arrival Hall, Gate 1, Roaming Center
06:30AM ~ 11:00PM
Gimhae International Airport
Arrival Hall, between Gate 2 and Gate 3, Roaming Center
06:00AM ~ 10:00PM
Busan Harbor
International Passenger Terminal 2F, Roaming Center
6:30AM ~ 7:30PM
Jeju International Airport
Arrival Hall (1F), International Terminal, Roaming Center
09:00AM ~ 07:00PM
# Things you need to keep in mind:
You must bring your passport when buying a Sim.
Your phone must be unlocked
After purchasing a Sim, you must register according to the guided form.
Register by clicking on a link that has instructions on the SIM phone packaging. Only register once and the information provided must be completely accurate. Otherwise, you will be blocked from outgoing calls.
On the Sim card there are 3 password numbers to activate, after entering your phone number, then enter the 3 password numbers on the Sim. Then, fill in your information, and take a photo of your Passport to upload.
The censorship stage in Korea is quite thorough, so you must remember to take the correct Passport, other documents are not valid.
If you have used a Sim card in Korea before, you may not be able to activate the new card.
Alternatively, you can buy a Korean 4G Sim at airport convenience stores or phone stores in Seoul that will give you a wide range of options. However, be aware that at some stores the staff does not speak English, making communication difficult, and retail prices may be more expensive.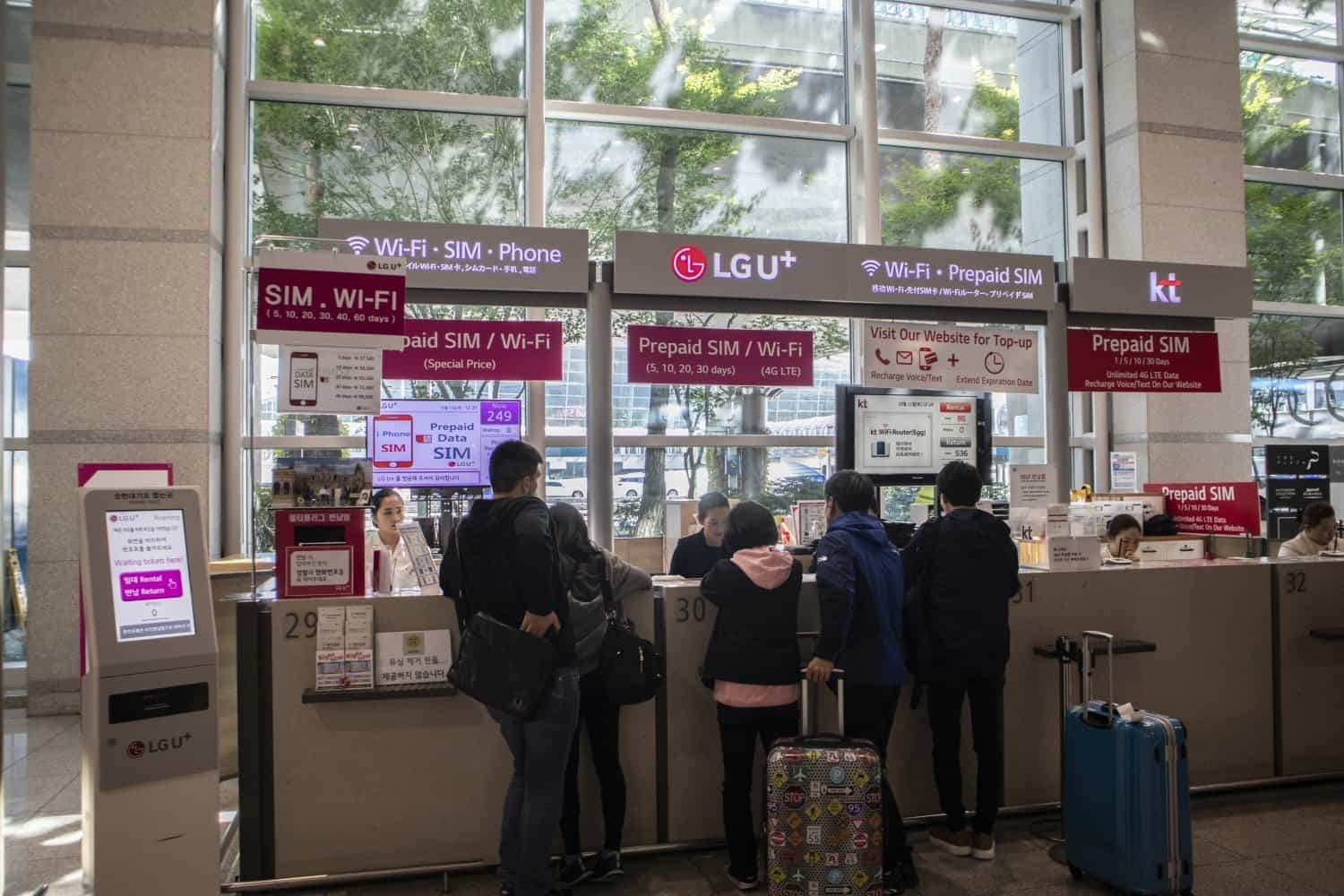 5.2. Buy a Korean 4G Travel Sim in Cambodia
If you go to Korea for the first time, have difficulty communicating and feel insecure when buying a Sim abroad, you should choose to buy a 4G Sim for Korean travel in Cambodia at Sim2go.asia. The advantage of this Korean 4G Sim is home delivery. You just need to insert the Sim into the phone and use it as soon as you arrive in Korea. Save time and effort in queuing and waiting at the airport, without having to show your passport, ensuring your personal information is secure.
KOREA TRAVEL SIM 5 DAYS 100GB DATA
Package: 100GB high-speed data 4G/LTE; Unlimited 3G
Expiry date: 5 days from the date of activation, activated in South Korea
You travel or work to Korea for a short time and are looking for a cheap KOREA TRAVEL SIM to be able to contact friends and family, post photos, find information and maintain contact 24/ 24 without fear of losing the net, this is the sim you need. No need to register with the carrier, just insert the sim and use it.
BUY THIS SIM NOW
$ 17.00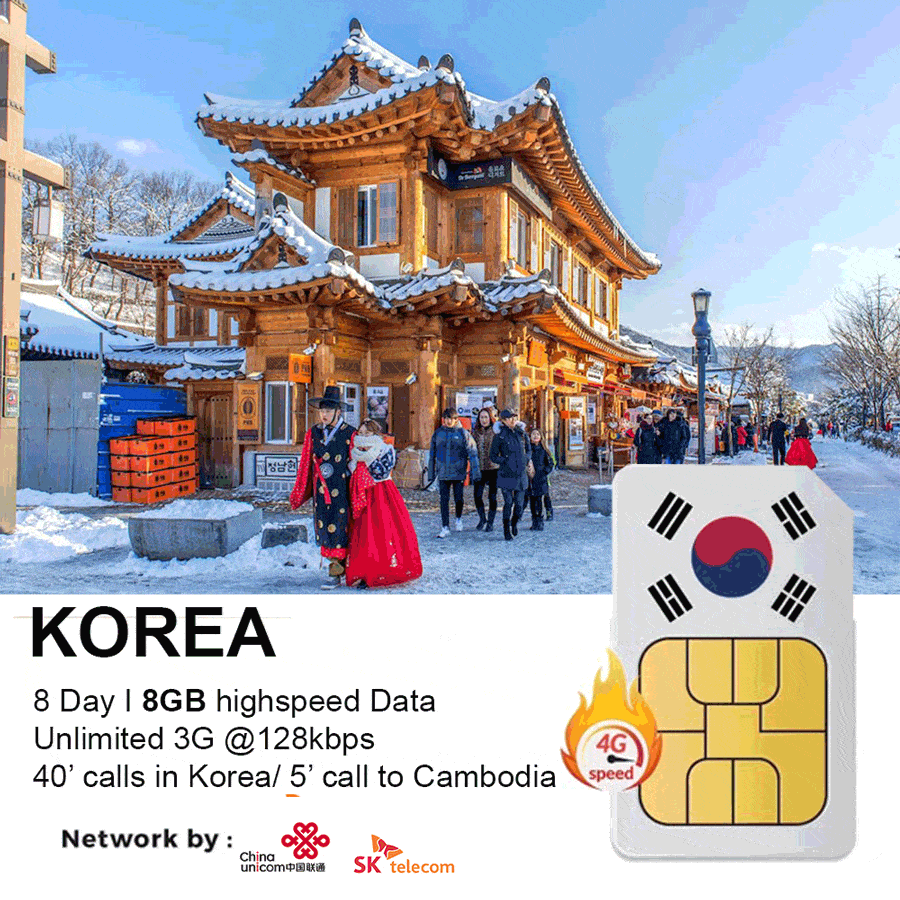 KOREA TRAVEL SIM 8 DAYS 8GB WITH 40′ CALL
Package: 8GB LTE/4G high-speed data; Unlimited 3G @128kbps; 40 minutes to make calls in Korea
Expiry date: 8 days from the date of activation, activated in South Korea
If you are in need of a sim card with a phone number to call hotels in Korea, use data to find directions or use apps to translate, this sim card is a reasonable choice. With 8GB of high-speed data used for 8 days and 40 minutes of calling in Korea for less than $ 17,00, don't hesitate to buy this sim right away! Sim2go.asia will ship to your home, just go to Korea to insert the sim and use it. Save money and save time queuing to buy sim card at the airport, with complicated procedures.
BUY THIS SIM NOW
$ 16.50
5.3. Why you should buy travel 4G Sim South Korea on Sim2go.asia
Sim2go.asia is a unit specializing in providing convenient telecommunications solutions that help you access high-speed Internet at low cost and save data roaming costs when traveling.
A team of professional consultants, dedicated support to help you quickly choose the right type of sim.
There are a full range of travel sim cards for many countries: Korea, Japan, Australia, India, Thailand, Hong Kong, Taiwan, Southeast Asian countries…
Commitment to confidentiality of customer information.
Buying and paying online is quick and convenient, with delivery and cash collection services or you can go directly to the office to buy a sim card.
Cheapest Korea Travel Sim price on the market today.
Sim is warranted for quality, prestige guaranteed.